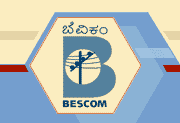 Bangalore Electricity Supply Company Limited in association with BillDesk now brings to you a simple, convenient and secure way to pay your electricity bill - over the Internet or simply by providing an automatic payment instruction. This facility is ABSOLUTELY FREE! No registration charges, no annual costs, no hidden costs! Simply log on www.billdesk.com to get started.

Get all these great Conveniences
You receive your BESCOM statement online at www.billdesk.com
You receive email informing you about the receipt of your payments
You can pay 24 hours a day, 7 days a week, 365 days a year
You can use your existing bank accounts to make your BESCOM electricity bill payments
You receive timely emails that remind you to pay your BESCOM electricity bill payments
You can store your BESCOM statements, maintain a record of your payments
You get instant Help for any queries
You receive total security and privacy while making payments.